Books by the Author Texas G. MacDonald, McKerrow, Ontario Canada
Historical information on working, sometimes quite rare, shootable firearms circa 1864 to date.
Adventure, facts and no BS or make believe.
If you need more information about the books please contact Texas by phone or email which is provided on the website
---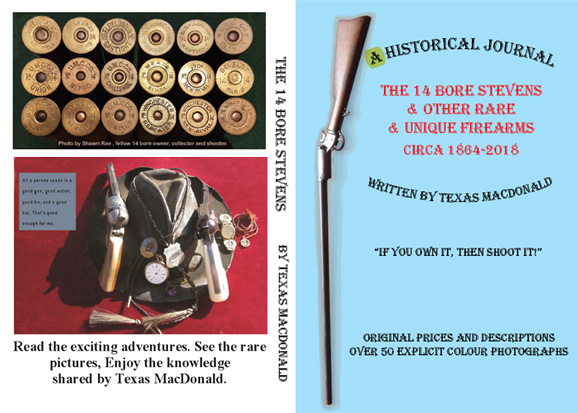 Historical Journal, Written 2018, 14 Gauge/Bore picture, Ammo, Loading, Hunting and Testing, Gun Cleaning, More History, Second Model Tip Up 1888, Dates of Stevens Production, RCMP Data, Safety First and the Blow Up, 45-90 Smooth Bore, Shooting the 41 Swiss, Tin Type Photo and Readers Comments from First Publishing. 173 pages.
---
Historical Journal Volume #2, Written 2019, Sturgis update, Wyoming Shootout, the T-65, Spencer Rifles and Carbines, Evans Rifles, Fogarty Rifles, The Bullard and its Northern Ontario connection, Cooey's and Kids, more Spencer info, Fenian raids, Gallagher Rifles and Shotguns, Small Gauge Shotguns, Garden, Parlour and Saloon Guns, Texas Longhorn Arms, 45-90 Smoothbore Update. 244 pages.
---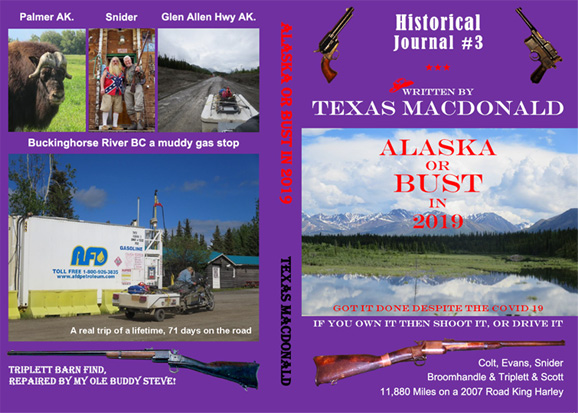 Historical Journal #3, Written 2020, 71 Days on the back of a Harley, a 11,880 Mile Journey, Days 1&2, Day 3, Saskatchewan, British Columbia and the Alaska Highway, Whitehorse Yukon, Tok Alaska, back to the Yukon, Washington State, Oregon with Jack and Mary Ann, Idaho with the Hoffman's, Boise Idaho with the Taffin's, Utah state, Pleasant View Colorado with Heidi's (my wife) Family, Rifle Colorado with Richard Benjamin (aka. Boop), Wyoming state, Rocky Mountain Cartridge visit, STURGIS, Hatley Wisconsin, Bruce Crossing Michigan, Home Sweet Home, Triplett and Scott, Bike Repairs, the C-96 Bolo Broom Handle, Trivia- Air Canada and Super Vel and the 577 Snider adventures. 310 pages 165 of them in Colour.